With IRIScan Direct you can use the IRIScan Book without batteries or microSD card. You simply connect it to a Windows PC using the included mini USB cable. The scans you make are stored as images on the Clipboard.
Note that IRIScan Direct is available on Windows only.
Installing IRIScan Direct
Open your Internet browser and go to www.irislink.com/softwaredownload.
Scroll down to IRIScan Book 3 / IRIScan Book Executive 3.
Click Download to download the software.
Go to the location where you downloaded the software, and run the installation file.
Click IRIScan Direct and follow the on-screen instructions.
Click Finish to complete the installation.
Using IRIScan Direct
Connect the IRIScan Book to your Windows PC using the included mini USB cable.
Press the Scan button for 2 seconds to power on the scanner.
Make sure the following icon is displayed on the display: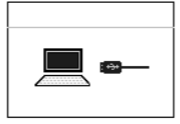 Start the IRIScan Direct application from the Windows Start menu.
Click the Settings icon to determine the IRIScan Direct settings.

Select the display language of IRIScan Direct.
Note: this setting only influences how IRIScan Direct is displayed. It has nothing to do with the scan language or the language of your documents.
On the Scan tab, choose the Scan Color (Gray or Color) and the Scan Orientation (Horizontal or Vertical).
Then click Save to save the settings.
Now open an application where you want to paste the image (Word, Paint, etc.) and click the mouse cursor inside the application.
Press the Scan button once. The 'Scan' led lights up.
Now roll the scanner over a document to scan it.
Press the Scan button again to stop scanning.
The scanned image is now pasted inside the application.
Note: when connected to a Windows PC, IRIScan Book uses a resolution of 300 dpi. The images are not stored on the microSD card but on the Clipboard.